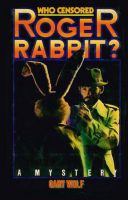 Sample Reviews are a new feature I am starting as on now! For each review, I'll choose a book that's been languishing on my To-Read list, and read the sample. Then write a short review that answers this question: did the sample make me want to pull the trigger on the rest of the book? Why or why not?
For my first sample review, I checked out
Who Censored Roger Rabbit?
by Gary K. Wolf. This book was the basis for the very good Disney movie; I enjoyed that movie and was delighted to learn that the author of the book has joined the backlist re-publishing crowd on Smashwords. Both books in the series were free during Read an Ebook Week, so I got them then and was curious to read them.
The books initially suffered from some fatal formatting flaws. I contacted the author, who was very friendly and attentive; the books were re-formatted and uploaded again within a day. Unfortunately, they could still benefit from a good copy-edit. These books are old enough that I suspect the author had to OCR them, and there are a few misplaced line breaks and punctuation issues. Not fatal, as the other issues were, but somewhat irritating.
Onto the story though, things were pretty smooth. The premise involves a world where cartoons are sentient beings who live side by side among humans. Eddie Valiant is a human private eye in the grandest of noir traditions who is hired by Roger Rabbit to investigate a simple labour dispute, and winds up in over his human head in the seamy underside of Toontown.
I enjoy a good noir mystery, and I enjoy a little quirk, so this should have been a slam dunk for me. Ultimately, however, I found the book a little flat. It is such a visual, exciting world the author has created. It was a little TOO visual, though. I felt the way I have felt before when I tried to read steampunk novels. I was interested in the world they were creating, but too many times, the action would slow down for an explanation of a sight gag that would have been better in a more visual medium. I am sure I would enjoy a steampunk comic book, just as I enjoyed the movie version of this very imaginative story. But as a novel, it wasn't quite as interesting. I got a little tired of reading explanation for where the speech bubbles go when a toon finishes talking.
I do see this as a book with appeal for the mystery fan, especially the noir mystery fan. With all due respect to Mr. Wolf, he has created an extremely imaginative and well-thought-out world for his stories, and I give him credit for the deserved traffic the movie version will likely drive his book's way. But for me, it worked better as a movie, I'm afraid :) With so much else on my plate right now, I passed on reading the rest of the novel.
Verdict: did the sample make me want to read more?
With no disrespect to Mr. Wolf and his clever story, no it didn't.