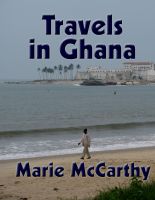 Travels in Ghana
is a simple but charming account of a woman's travels in Ghana in 2009. I found it via an announcement on another blog, and was sufficiently pulled in by the sample to want to read the full book. It took some effort locating the author's email address (note to authors: it helps to include this information in your Smashwords profile!) but I was able to track down her contact info via some Google-Fu and get a review copy.
The book is a quick, but interesting read full of interesting characters. The author's driver, Stanley, was especially well described and it was great fun following them across the countryside together. Each chapter dealt with a different phase of the trip and many of the chapters included photographs. Cultural details about life in Ghana were incorporated when necessary and did not detract from the narrative or overwhelm it in any way.
Ghana is a country many people would not think to visit on their own. I was interested to learn more about it and really felt like I was right there along with the author on her trip. The book ended with a short chapter on tips for travelers that was a helpful bonus.
Overall, a brisk, fun read and definitely recommended if you enjoy travel or are in the mood for a memoir-type selection. 5/5.