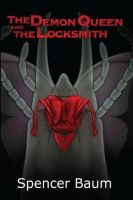 This
engaging (and free!) YA novel was a treat! The story is about three teens in a mystery-plagued New Mexico town who stumble upon a supernatural-ish adventure involving a strange mountain, a missing radio announcer and mystery forces of evil, and something else entirely.
The first two thirds of the novel were excellent. It was a pleasure watching Jackie, Joseph and Kevin come to terms with the powers they were tapping into, and begin their little teen gumshoe routine. Toward the end, the story got a little too bogged down in the technical stuff, however. I started wanting to skip ahead a little.
That said, I did feel this was one of the better Smashwords books I've read---reasonably polished, entertaining and very original. Sort of across between early Dean Koontz and later Neil Gaiman. Very worth a read, if you like the horror genre. 3.5/5.