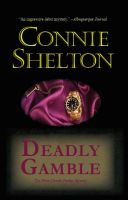 Like many of the reviewers who posted at Smashwords about
this book
, I obtained it during Read an Ebook Week last year. It's a solid, well-edited little mystery and the ten others in the series promise more good reading for those who enjoy this sort of story.
Charlie is an accountant who works for her PI brother, and when he is out of town and an old friend drops by with a seemingly simple lost item retrieval case, Charlie goes off on her own to find Stacy's stolen necklace. But when the thief turns up dead, it's a full-on mystery that Charlie may not be ready for.
The book was of a high quality for a Smashwords title, free of amateur errors and well put together. I am avid mystery reader and this was exactly the type of book I normally like. But something was missing for me. I kept taking breaks from this one, forcing myself to read one more chapter in between rounds of Plants vs Zombies :) I can't quite put my finger on what it was, but I suppose it came down to not enough stakes for me. When I think back to the series I follow most devoutly, they usually involve protagonists with very interesting jobs (Kay Scarpetta is a coroner, Stephanie Plum is a bounty hunter) or with super-compelling backstories (Kinsey Millhone is an orphan with a murky past, Eve Dallas is a former foster child who doesn't even know her real name and is married to a zillionaire). Charlie Parker, in comparison, was kind of blah. It wasn't so much 'J.D. Robb' as ' Carol Higgins Clark' for me, and I hated *those* books!
That said, I do think this is a solid and very polished mystery series for those who read more in the cozy vein, and for some reason I am disinclined to mark it down too much just because I didn't love it. I do think this book (and the others in the series) have potentially wide appeal and are quality entrants in a genre that, let's face it, is under-represented in the indie world both in quantity and quality. If it had that extra zip that felt, to me, to be missing, it would have been a 4/5 for sure. As is, I am going to decline to rate this one. Not my favourite, but it may well be a favourite for others, so go ahead and enjoy if you are a mystery fan.