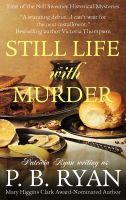 I am delighted to welcome a guest blogger for this week's review: my sister Tammy! Tammy is a paralegal, a published freelance writer with more than 300 newspaper and magazine credits to her name (including The Writer, Rangefinder, Paralegal Today, and others) and an as-yet unpublished mystery novelist. Tammy has been a fan of e-books since they first emerged on the PalmOS platform a decade or so ago and just got a Kindle 3 graphite for her birthday. She says she believes it is finally starting to realize the promise of e-books and she dearly loves it! Tammy also reads on a MacBook and a Droid, but neither of those is quite as satisfying as reading on the Kindle! You can find out more about Tammy and her work at her
website
and at
Mobile Read.
Now, onto today's review! The book is
Still Life with Murder
by Patricia Ryan, and here are Tammy's comments:
***
I'll be honest: I wasn't expecting to love Still Life With Murder. I don't read a great deal of period fiction, and in much of that which I have read, the author's attempts to set the period overwhelmed the story. This book was different.
The story centers around Cornelia "Nell" Sweeney, who through an accident of circumstance becomes governess to the adopted daughter of a high-society Boston family. But Nell's world explodes hen one of the Hewitt family's sons, long believed killed in the Civil War, is found both alive and accused of murder. Viola Hewitt enlists Nell's aid to clear her son, and Nell finds out that unburying secrets can have a heavy cost indeed.
The story's setting was clearly placed, in both location and time, without seeming heavy-handed. The author's writing had a pleasant, almost lyrical, feel that I really enjoyed, and was quite well-crafted. By the end of the book, I genuinely liked the characters and cared about what happened to them. And, best of all, the mystery ended with one of those surprise twists that, upon further reflection, makes the reader say "of course, it had to be that."
Overall, I'd give this one a 4/5, but that's just because I don't read much in this genre. If you love period fiction, bump my rating up to a 5 and go buy this one. Whether you love period fiction or not, you'll probably enjoy being swept away into Nell's world. I know I did,
***
Thanks, Tammy, for the review! Tammy will be contributing other reviews to this project and I look forward to seeing what other gems she will bring our way!