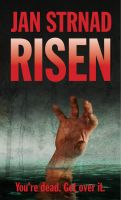 Risen
is one of a
growing genre
of 'self-published' books which had previous life as a print release from a traditional publisher. This re-release by the author is under his real name (Pinnacle Books published it under the byline of 'J. Knight') and includes some bonus short stories.
'Risen' a fun, fast horror tale. In a small town called Anderson, a long-suffering woman kills her scumbag husband---quite definitively---and is shocked when he comes back to life again, seemingly fitter and happier than before. But he's not the only one...
A reporter and his local cub, a troubled lad named Tom who has own demons, pursue the truth in classic horror-tale fashion. The depiction of small-town life was excellent, but most of the characters proved a little too cardboard after a time. This is definitely a plot-and-action centered story. It reminded me a little of early Dean Koontz---not the depth of some of his classier stuff, necessarily, but good old adventure stories with evil forces and out-of-their-depth Everypeople trying to fight them. Not the sorts of books you remember for the ages, but fun reads for what they are.
I have been asked to comment on formatting---I generally don't notice it, but I did find the formatting a bit sloppy on this book. The chapter headings all had a larger font to distinguish them, but there was no extra spacing to indicate a break. It just ran together a little. An extra paragraph break at the end of the chapter would have made this book look a lot nicer.
I save my 5/5 for books with a little more staying power than this one. But for what it is---a good old-fashioned genre read---it was very good. I give it a 4/5 and my strong recommendation.