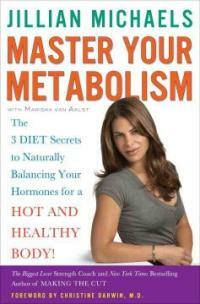 I managed to get my hands on the new Jillian Michaels book two days early thanks to a hole-in-the-wall store who does not always pay attention to release dates, and I am just too excited. I adore Jillian Michaels, respect her work and methods, see her as a role model and just in general think she is kick-ass fabulous, so being the first out there in book-blogger land to get this book, I had to write about it.
This is an interesting 'diet' book with a fresh approach and a lot of good information. Jillian's pet topic in this volume is hormones, and her food plan is all about re-balancing yours to boost your metabolism and boost your health. Due to my food allergies, I am already avoiding some of the 'toxic' foods Jillian rails against in this book, so if you are a HFCS addict (or someone who never paid much attention to it before) the program in this book may be a harder adjustment for you than it will be for me. And if you are vegetarian, or reluctant to spend the money on organic foods, you won't find much sympathy (I have heard that Jillian has recently become pescatarian, so I am surprised there was nothing in this book about vegetarianism).
The crux of the book is a three-stage plan where you 1) reduce or eliminate the the bad things 2) add in some good things and 3) tweak, assess, and adjust your environment. While the 'menu' portion of the book offers nothing different from other 'diet' books out there, the sections leading up to it are packed with great information about hormones in the body and which foods enhance/support them, how to reduce toxins/pesticides/chemicals in both your food and your home, special suggestions for people with PCOS, thyroid issues and other hormone imbalances, and suggestions for ways to boost vitamins in your diet using power foods.
I appreciated that Jillian at every point offered *food* suggestions---no hormone therapy, no vitamin pills, just plain old food. And I thought it was really unique (and useful) to see suggestions on how to improve your non-food environment (go green! wahoo!) I guess my one disappointment---and I have had this same disappointment with every 'diet' book I have ever read---was that Jillian did not address at all the topic of food allergies. Nobody does, so Jillian is certainly not unique in dietbookland for failing to. But this is a growing problem, and as someone who has several medically verified sensitivities, it is an issue that has affected my diet. I find healthy fats an especially difficult problem because I can't have tree nuts, flax or raw seeds related to the birch family (e.g. pumpkin seed). I would have liked to see some suggestions for snacks beyond the 'string cheese and fruit' or 'almonds and an apple' that fill every diet book out there.
Overall---an impressive 'first diet book' from Jillian, with an entertaining, conversational tone and solid info, with page upon page of references to back it up, and sensible info on a myriad of ways to rebalance your body and eat sensibly, healthfully, and in ways that support weight loss and optimize fitness. Here's hoping for an equally well-done sequel addressing the needs of vegetarians and perhaps including more menu ideas and suggestions for substitutions for people with food allergies or other sensitivities.