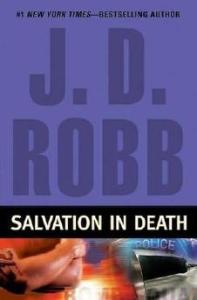 This book is the latest in a prolific series revolving around a near-future New York and its top cop, Eve Dallas, who is married to a billionaire tycoon with his fingers in all sorts of pies. I admire the consistently high quality of this series---Roarke is so rich and powerful, and so besotted with Eve, that as they settle into want-for-nothing domestic bliss, it's harder to up the stakes and make things matter. It's a little too easy, given Roarke's connections and access to pretty much whatever he wants, to use him as a crutch, and while this sort of thing has happened more as the series progresses, Roberts does still find ways to mix it up.
In this volume, the dead guy is a con man posing as a priest, and this stirs up all sorts of philosophical issues for the non-religious Eve. She is fascinated by the faith exhibited by numerous characters as the investigation progresses, and is equally fascinated by the ways they use this faith to justify and/or excuse their behaviour. She also finds herself (and her partner) dealing with the emotional ramifications of a murder victim who was not such an innocent himself. Both she and Roarke are more introspective in this adventure than in others, pondering, given their own backgrounds, why some people Overcome and some do not.
This was not the most action-packed and adventure-filled outing, and we barely saw some minor characters that I know readers enjoy (Mavis, for example, is due for a big part soon!) But I find this series to be consistently excellent and was looking forward to reading the latest story. I wouldn't pay hard-cover prices, though. My library routinely offers such books in non-reservable three-day 'fast read' loans, so for me, this was a race between 'happen to spot it at library' and 'e-book goes on sale.' Lucky for those who are profiting from this title, the e-book happened to go on sale first, but it could have just as easily gone the other way!